Take a fun ride on your own waverunner in Mazatlan! We offer waverunner and jet ski rentals at a discounted price. Not only that, but if you book your waverunner through us, you'll get FREE* access to the brand new Posada Freeman Hotel in the Golden Zone, where you can enjoy the beach, pool, bar and restaurant facilities, and more.
Waverunner / Jet Ski Rental Highlights

Drive your own Wave Runner at speeds of up to 70 miles per hour at our discounted rental prices!

Enjoy relaxing on the beach, swimming in the pool, or having drinks or food at the snack bar, restaurant and bar at the brand new Posada Freeman in the Golden Zone.

Swim or enjoy a wealth of other water activities at the same location, reserve now for the best prices!

No need to reserve a time, you can use your e-ticket anytime! We offer Mazatlan's only no-port, no-pay policy. If your cruise ship doesn't port, you receive a full refund. There is no risk to book with us, only savings and FREE use of our beach club - exclusive to customers of Mazatlan Tours!
See Also: Jet Ski & Snorkeling Adventure
Cruise Passengers: Yes! This tour makes a great shore excursion. You pick the start time!
Runs: Monday through Saturday. You can come down anytime between 9:00 AM and 4:00 PM. It's up to you!
Duration: Rentals are in half-hour increments. If you want more time, simply book more slots.
Departs: From the Heart of Mazatlan's Golden Zone. Exact meeting instructions will accompany your confirmation.
Includes:
Don't Forget: Biodegradable Sunblock, Camera, Extra money for drinks or food at the Posada Freeman hotel.
Kids: All ages are welcome.
1/2 HOUR JET SKI RENTAL (SINGLE RIDER)

Ship Price

Hotel Price

Our Price

N/A
$60.00

$59.00

Price is for each 1/2 hour on a Waverunner.

1/2 HOUR JET SKI RENTAL (TWO RIDERS)

Ship Price

Hotel Price

Our Price

N/A
$70.00
$69.00
BOOK NOW AND SAVE!
You can come to the beach any time between 9:00 AM and 4:00 PM. It's up to you - no need to choose a time!
To add extra time, just click "Add More Tours" in your cart.

Month

Time

Jet Skis

Choose Type



OR CALL US TOLL-FREE
1-866-471-4157


Don't worry - English is our First Language!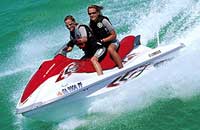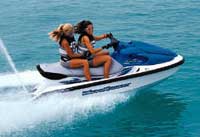 FREE WITH YOUR RESERVATION!



MAZATLAN FUN CARD
OUR ADVICE:
What a great deal! Not only do you get to take an exciting ride on a waverunner, but then afterward you can relax and lounge at the hotel and beach club, enjoying the restaurant, bar, pool, and beach facilities to your heart's content.
Other Water Activities you can enjoy at the same location:
Hobie Cat
Kayaking
Parasailing
Scuba Diving
Snorkeling
Why stop at just one?
*NOTE
* There are two Posada Freeman Hotels. One is downtown on Las Olas Beach, and was built in 1944. This one is brand new, and is between the El Cid Castilla and Inn at Mazatlan Hotels.

* Remember you get free use of the hotel & beach club facilities! Suggested consumption of $20.00